Shell converts fuel station to EV hub
Shell has converted one of its existing fuel sites in Fulham, London, into an electric vehicle (EV) charging hub.
The petrol and diesel pumps have been replaced with ultra-rapid charge points. This is the first time the company has converted one of its existing sites to cater solely for electric vehicles.
Shell Fulham features nine high-powered, ultra-rapid 175kW charge points which can charge most vehicles from 0-80% within 10 minutes – three times faster than more widely used 50kW rapid chargers.
Commenting on the new site, István Kapitány, Shell's Global Executive Vice President for Mobility said: "EV drivers are looking for a charging experience that is as fast, convenient and comfortable as possible. This is exactly what Shell Fulham aims to offer. It joins our growing network of Shell Recharge sites at forecourts and other locations, our ubitricity on-street charging network, and our Shell Recharge Solutions for homes and businesses as we increasingly help EV drivers to charge wherever they need it. It also gives us all a glimpse into the future of mobility."
Transport Minister Trudy Harrison added: "It's fantastic to see Shell leading the way with their brand-new charging hub, offering EV drivers an easy and rapid charging experience. With more people making the switch to EVs than ever before, this is exactly the type of facility we need to help make the transition as simple as possible for drivers up and down the country. This Government has committed £2.5bn to vehicle grants and infrastructure to support the switch to EVs. In addition to Government efforts, it is equally encouraging to see businesses support the EV transition – and Shell's new hub is a brilliant example of the UK's huge effort to go-green and reach our important net-zero targets."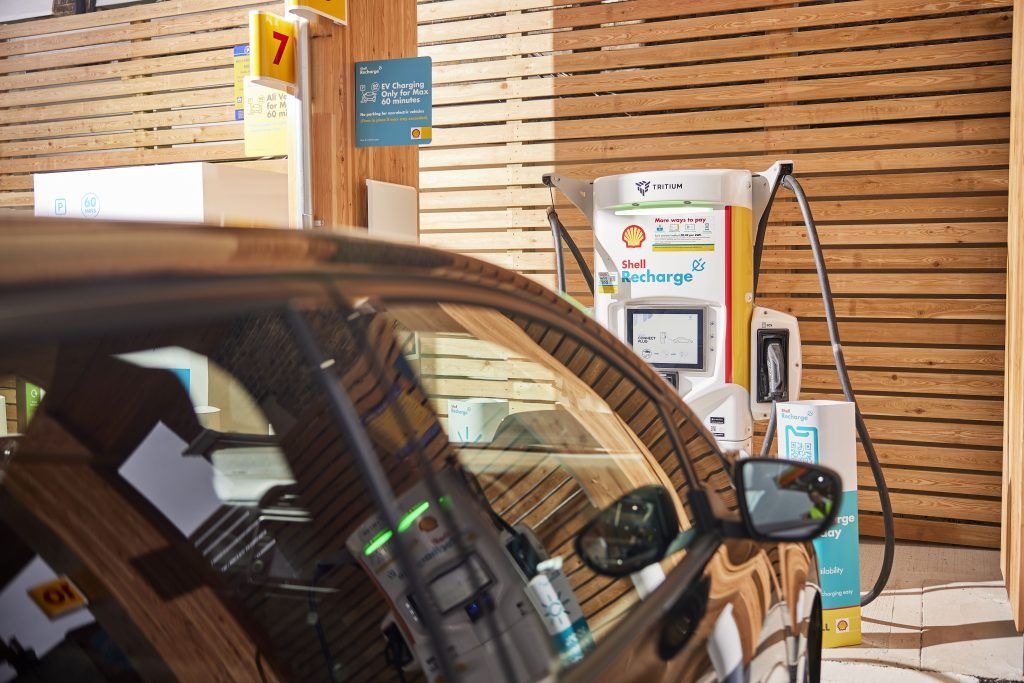 Shell Fulham features a sustainable design including a timber canopy with built-in solar panels, and roof and shop windows that employ double glazing with high insulating properties. Like all of Shell's EV chargers in the UK, the chargers at Shell Fulham run on 100% certified renewable electricity.
Shell has previously stated an ambition to install 50,000 on-street chargers in the UK by 2025 through Shell-owned company ubitricity, and in July 2021 announced that up to 800 Shell electric vehicle charging points would be installed in as many as 100 Waitrose sites across the UK by 2025.
2021 was the most successful year in history for electric vehicle uptake as more new battery electric vehicles (BEVs) were registered than over the previous five years combined, according to new figures from the Society of Motor Manufacturers and Traders (SMMT).
Images courtesy of Shell.